The Place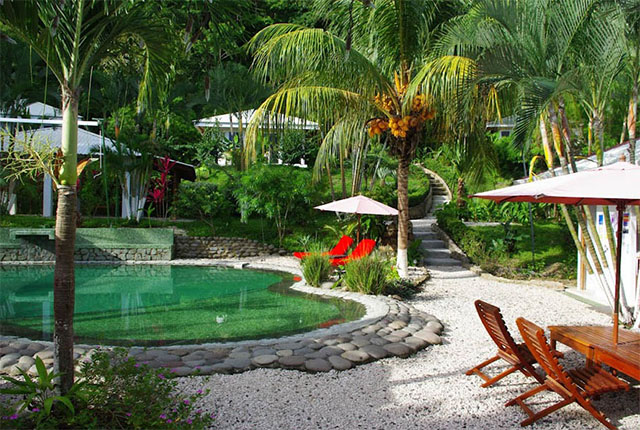 The Place Hotel is run by a cosmopolitan swiss ex-model who since the time she stepped into Costa Rica was overpowered by its breathtaking beaches along with the friendliness of the Costa Rican culture. She was inspired to create a place where one experiences this feeling of a contemporary lifestyle combined with Malpais' natural beauty. The Place thus evolved as a coquette tropical hotel boutique that features individually themed rooms to suit different vacation tastes.
Accommodation and Amenities
The hotel welcomes their guest with their signature Costa Rican coffee adding a personalized service to the guests' stay right at the onset. You have a nice range of accommodation options to pick from including stylish bungalows, villas and guest rooms at the hotel where there's a wide range of pricing possibilities with standard, twin or queen size beds. WIFI connection is available throughout the property. Located at a mere 5 minutes' walk from Carmen Beach, Hotel The Place features an outdoor swimming pool and air-conditioned accommodation. It is situated on the periphery of the Cabo Blanco Nature Reserve.
Their spacious uniquely decorated bungalows are all set in a beautiful tropical garden, just steps away from the swimming pool with waterfall. Every bungalow features air conditioning with an energy saving card, ventilators, room safe, mini fridge, Wi-Fi access and are equipped with a queen size bed, and 1 – 2 twin beds.
The Place's villa is a two bedroom, two bath unit that can sleep up to 5 people. The bed arrangement is two queen size beds and a single bed. The living room area has a fully equipped kitchen and outside, the covered outdoor patios offer additional space for dining and relaxing with open garden views. The villa additionally features air conditioning, room safe and Wi-Fi access.
Their three Standard rooms in the main building feature air conditioning, Wi-Fi access, and a room safe. Standard rooms are equipped with a queen size bed or two single beds.
All bungalows at Hotel The Place feature a unique décor that takes from the nearby tropical forest, the ocean, Africa and Mexico. Each includes a minibar and a private bathroom with shower. Their in-house restaurant is open 7 days a week and presents the best of Costa Rica's local fare and some brilliant international delicacies as well. The breakfast and dinner can be included adding $20 plus The hotel's restaurant is open for breakfast, while cocktails are served at the open poolside bar. Guests are also allowed to prepare their own holiday special meals in the communal kitchen area. The multilingual staff at Hotel The Place are happy to provide information on sights and activities in the surrounding area and can also organize them on prior request. They can also arrange surfing lessons and excursions and equipments.
Hotel The Place is making an effort to preserve the environment by recycling, using biodegradable soaps and cleaners, installing energy saving light bulbs, having AC with an energy saving card system and contributing monthly fees for beach cleanup.
Activities
The hotel can organize several activities for guests in and around the Malpais and Santa Teresa region including surf lessons, surf and boogieboard rentals, snorkeling and fishing trips, day trip to Tortuga Islands, Curu Nature Reserve and Cabo Blanco National Park, canopy tours, horseback riding, renting quads, motorcycles and/or bicycles, massages and private yoga lessons. Mapais is a really nice town to take long, lazy strolls.
Guests can also take canopy tours just next to the harbor in Mal Pais or close to the village of Montezuma. There, the trained staff will give guests a small training on the bottom before. After that, guests will have one or two short runs before they go on the long ride.
The Place
Website: http://www.theplacemalpais.com/
Video Slideshow on YouTube