The White House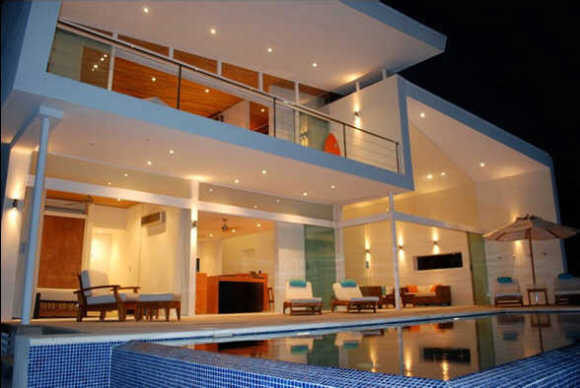 This classy and upmarket Playa Hermosa (just a little north of Santa Teresa in the Mal Pais Area, in Puntarenas, Costa Rica) located vacation home is known to be an architectural stunner featuring a private infinity pool spectacular oceanic views and a volley ball court. The villa also features a restaurant Buddha Eyes and a beach bar. The property is adjacent to the yoga resort Pranamar, the newest and most exclusive yoga destination in Costa Rica, built and managed by the people who created the famed hotel Flor Blanca. The White House is a large 3 1/2 Bedroom, 2 Bath ocean front estate home. It can comfortably house 6-8 people at a time. The White House features a full maid service, and 24 hour security. It offers a full-fledged luxury hotel style concierge service. On arrival, you will be greeted by their manager, who will help you with any requests or reservations, for anything from restaurants and fishing trips to surf lessons, horse riding, canopy tours, and visits to the popular eco-tourist destinations in the vicinity. The Cabo Blanco Nature Reserve is located less than 45 minutes from The White House. This vacation rental property also includes two smaller villas: White House Small Villas.
The Villas are just steps away from the star attraction of Playa Hermosa, the beach directly in front of the White House property. The Villas each have two bedrooms and bathrooms, one of which has a serene outdoor shower. One bedroom has a queen, and the second has two twins, which can easily be combined to accommodate two couples or kept separate for the kids. Sofas can also double up as daybeds. Their kitchens are fully equipped with a gas stove (four rings), a large refrigerator with a freezer, microwave, water dispenser and all the cutlery, glassware and plates guests will ever need. Charcoal BBQ is also available upon request for your sundown grill parties.
It's accessibility to popular town attractions coupled with a modern design and old-world hospitality makes this one of the most sought after holiday homes in Santa Teresa. The White House is an exquisite holiday stay experience with all the luxuries of a swanky hotel albeit minus their impersonal appeal and lack of privacy. This isn't the place where you are going to watch your budget though. It's a more 'splurge on a luxury holiday on a Californian beach stay' kind of place.
Features and Amenities
The property is strategically situated to optimize the ocean view and the pool is nicely elevated to the living area level for easy access, entertaining and viewing from the kitchen and living area with families in mind. The pool outdoor kitchen/gazebo is equipped with everything that is needed for entertaining. Their living and dining rooms are centrally located on the main floor of the house with glass doors that slide away to the outdoors and a balcony to relax on. The full chef's kitchen features everything you'd expect, including a chef if you are after that as well.
The White House is a large 4 Bedroom beachfront home that features a gourmet chef's kitchen with an amazing ocean view. You can experience the gorgeous sunset while preparing dinner in the kitchen no less. The main house can house up to 8 people. If you have a larger party, you may rent out a Villa with the White House or the entire property, (main house and 2 villas) to give you a total of 8 bedrooms and 6 bathrooms. They have full daily maid service, 24 hour security, Satellite TV, local phoneline, and Wi-Fi across the property.
Playa Hermosa is home to a plethora of tidepools and vast expanses of soft white sand. Great all level surf is a 2 minute beach walk north from The White House, and more experienced surfers can go out directly in front of the property. Featured in 2010 in both Conde Naste Traveller and Su Casa (Central and South America's leading architectural magazine), The White house is the perfect beach getaway for the discriminating traveler.
The property's extensive amenities list includes a Private Pool (main house), air conditioning, off street parking, 42" HD Flat Screen TV with Sky Satellite, a CD Player, a stereo system, cooking utensils and dinnerware, refrigerator, microwave, ice maker, catering upon request, outdoor features and a large chef's BBQ grill (main house) along with beach front views (main house ), Wi-Fi, telephone, linens, beach and bath towels, daily maid service, security, and concierge, laundry service, gourmet chef and on-Site childcare available upon request. The vacation home is kid friendly and the restaurant at Pranamar Yoga is located within walking distance.
The house features a modern and elegant appeal that is ideal for guests who enjoy living in open spaces with the ocean breeze caressing their faces. This clean and comfortable property not just features great gourmet restaurants and small eateries in close vicinity but also allows you to de-stress with a help of a massage bang in the middle of the beach while experiences the hypnotic sounds of the waves. The property's several porches and layout and architectural design is ideal for catching some of the most breathtaking vistas in the area. Not only is it visually stimulating, The White House also radiates a calming, positive and tranquil natural aura.
The White House features an exquisite design and takes care of all the guests' comforts along with contemporary art, furnishings, and appliances, and a location on one of the world's most beautiful and private beaches to offer visitors the ultimate Costa Rican experience.
Nearby Attractions and Activities
The White House's beach location is perfect to indulge in a number of activities offered region. You have convenient access to the tide pools and a pleasant swimming/surfing beach near Playa Hermosa. Guests can enjoy all activities including yoga, pilates, zip line tours, horseback rides, quad rides, golf, shopping, restaurants, sailing, boating, shelling, swimming, snorkelling/diving, surfing , windsurfing, biking, wildlife, viewing, hiking, fishing, horseback riding and Montezuma Waterfalls.
Website : http://thewhitehouseofcostarica.com/
Phone: 858-245-7679 / 818-995-1540
Email: [email protected]