Villas Hermosas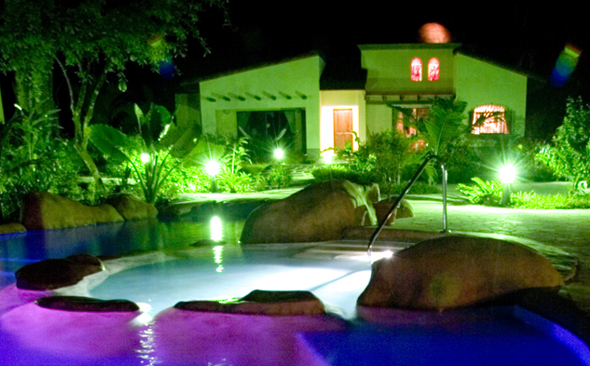 Playa Hermosa is one of the area's most beautiful sandy beaches and in the middle of one of them is a small boutique hotel known as Villas Hermosas, a 4 villa property that exudes the quiet charm of Malpais with the contemporary vibrancy of a global tourist destination. The concept of this hotel is to offer customized guest services to help them enjoy a comfortable and safe vacation.
The name of this beach literally means "Beautiful Beach", and there wouldn't be a more appropriate name for the beach. A striking, long and flat, sandy swimming beach, Playa Hermosa is the gem in Santa Teresa's crown, and is perfect for all activities including swimming, surfing, sun tanning, or frolicking in the white water. That's not all, the region has lush jungles, tropical gardens, an inviting swimming pool, modern villas, and quiet beaches, all this while enjoying the homey comforts. With only four villas, Villas Hermosa is  able to offer the ultimate intimate experience.
Its owners, Brad and Tara from Canada, know very well what their clients are looking for. Once upon a time they were tourists looking for the exciting adventures in Costa Rica. And thus came up with the brainwave of opening a small hotel mainly for young families with children so they can enjoy all comforts that can be found in a house. Other than super relaxing rooms and an uncontrived natural ambiance, the hotel offers complimentary breakfast is part of the deal.
They have a swimming pool that alluringly changes shades at night creating a spectacular visual display, in addition to a comfortable ranch, communal BBQ where you can savor relaxing dinner or indulge in some much needed pampering by hiring the service of one of the best chefs in the area.
Amenities
Swimming Pool – At this Costa Rica hotel, they are proud to offer a large swimming pool with a beautiful cascading waterfall, as well as a smaller pool, ideal for young kids or plain lazy lounging. The best feature about the pool is it changes colors at night.

Rancho and Communal Barbeque – Relax and have a drink in their thatch-roofed rancho. Perfect for escaping the sun, eating, playing games, or simply socializing. Includes a self-service wet bar; bartender for hire available upon request.

Hotel Playground – At Villas Hermosas hotel in Costa Rica, kids are certainly not left out of the fun. Just off the large pool deck is a fun play area. This area is fenced in with a secure gate.

Chefs for Hire – There are several chefs in the area in a range of prices and styles who are happy to prepare any meal for you in the rancho or in the privacy of your villa. Clean-up service is included.

Breakfast – Breakfast is served daily in the rancho from 8:00 to 10:00, their delicious gourmet breakfast is included with the price of the guest room at the Villas Hermosas hotel. You can enjoy Costa Rican favorites such as Gallo Pinto, eggs made to your preference, tropical fruit, toast, freshly squeezed orange juice, and delicious local coffee, as well as their daily special menu. Other amenities at the hotel include parking, wireless internet, laundry service, evening security guard, daily maid service, massage therapist available upon request and generator for power outages.
In room amenities include air conditioning, ceiling fan, hot water, water cooler with water provided, serta pillow (top orthopedic mattresses), satellite TV, wireless internet, full kitchen, room safe, pull-out futon, DVD player, microwave oven, blender, toaster and coffee maker.
Contact Villas Hermosas
Website: Villashermosas.com/
Telephone: +506.2640.0630
Email: [email protected]
Facebook Fanpage: https://www.facebook.com/pages/Villas-Hermosas/37772908384