Vista de Olas Hotel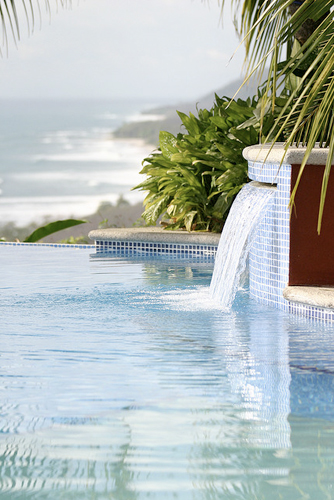 Indulge yourself in this 5 stars hotel. Vista de Olas is a refined hotel with 5 sumptuous villas perfect for specially designed for honeymooners and couples. The sunsets is one of the main reasons why  the hotels name: the spectacular landscape embrace your sense coming from the extended 180 degrees view of Malpais until Santa Teresa beaches. We highly recommend to take a intimate and memorable drink with the view as a background in the infinity lounge pool located in the main garden.
Also in this hotel area, you can take one of the best BBQ form Malpais and Santa Teresa, an open air restaurant with an amazing views with a selection of high standard of meats: T-bone Steaks, Filet Mignon, Baby Back Ribs, Bratwurst and more! Accompany by a delightful a side salad dish and extensive list of wines, cool beers, fresh juices and soft drinks.
The villas are secluded separate buildings immersed in the tropical jungle. As in the surroundings, in the rooms inside the color palette reminds from the Caribbean to the Pacific tropics establishing a join between inside and outside.
There's a private terrace where once you open it emerge all the magnificent sun rise over the hills of Mal Pais and set behind the rolling ocean.
AMENITIES
Only 5 villas in the whole hotel
Ocean view in each villa
Canopy King Size Bed
Orthopedic Mattress
Air Conditioning
Private outdoor bathroom
High Speed Wifi
Minibar
Room Safe
Cozy Nooks
Pool
Breakfast included
BBQ Restaurant
Room Service
Spa
Private Yoga or Pilates Classes (must be pre-arranged)
Airport Transfer (must be pre-arranged)
Secure Parking
Contact Vista de Olas
Website: Vista de Olas
Phone: (+506) 2640-0183