Romantic Honeymoon Villa Rentals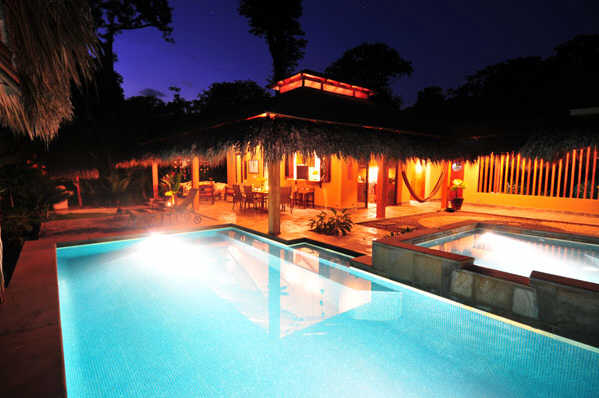 It has somewhat become a tradition to spend a honeymoon in an exotic location that features tropical seas, sun-kissed beaches, scenic greenery and spectacular landscapes. Also, it has to be in a romantically secluded and unique destination to make it memorable. Costa Rica's tropical beach town, Mal Pais, is one such place popular among the couples for honeymoons and intimate retreats. The town has world class beaches, amazing scenery and luxurious accommodations. Speaking of accommodations, they can make a huge difference and play a major role in your holiday. In Mal Pais, there are several deluxe resorts, villas and luxurious vacation rentals where you can spend your honeymoon in utter tranquility and romanticism.
For the most privacy, consider renting a private villa rather than staying in a hotel. Some of the best vacation rentals are described below:
Casa Verde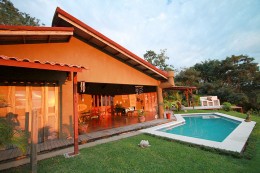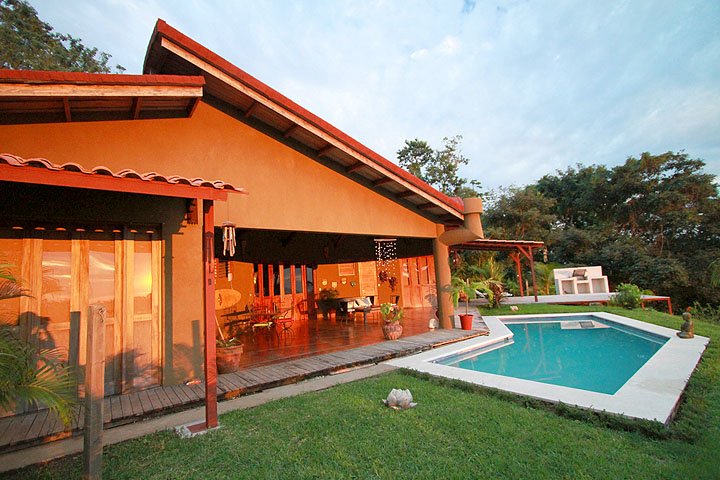 Casa Verde is a luxury vacation rental situated in the center of oceanic and mountainous beauty of Mal Pais. One look at it and you won't have any doubt that it is indeed an ideal place to spend your honeymoon. Casa Verde is a splendid rental house lined with comfort, luxury and satisfaction. The house is constructed as a charming tree house amidst jungle clad hills and acres of lush tropical flora. Due to its private location, the house is surrounded by a quiet and sublime ambiance with no disturbances. The backdoor of the house is a portal to Montezuma. There is a long paved road adorned with waterfalls and beaches that leads to another beautiful town called Montezuma. Inside, the house is designed in Moroccan and Balinese styles. There are two massive bedrooms that offer perfect views of rolling green hills, wild jungles and sandy beaches. Each bedroom is appointed with a king size bed, a large plush couch, bouncy sofas, cable television, DVD player and internet service. Also, there is an attached bathroom with a lavish bath and a three waterfall walk-in showers. The house features a gourmet style kitchen which is not only spacious but has all the modern day luxuries. Outdoor features include a grand salt water pool and an immaculate garden. Live in the lap of luxury on one of the most special respites of your life.
Casa de Amor
Casa de Amor is a deluxe beach front rental house perfect for dreamy honeymoons and romantic getaways. Regarded as one of the most charming and beautiful houses in Mal Pais, Casa de Amor oozes with perfection. All the rooms offer eye catching views of Pacific Ocean, shimmering beaches and sublime greenery. The house is built with an open design concept and most of the walls are of pristine glass. There is a vast bedroom with plush bed and lavish covers. The bedroom joins into a spacious kitchen which is equipped with all the latest cooking ware. The bathroom of Casa de Amor has glass walls that afford views of the ocean, a lavish bath and a waterfall shower. Recently, Casa de Amor had a new deluxe addition – an infinity edge pool! Have breakfast in bed, have bubble baths, and take a stroll on the beach under the starlit sky on your honeymoon at Casa de Amor.
The Wave Watcher Villa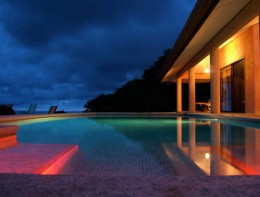 Encompassed by soothing oceanic breeze, surging waves and a white sand beach, The Wave Watcher Villa brings the tropical paradise right on your door! The villa is more than a perfect place for a summertime honeymoon. The villa has a modernistic design with right just a right amount of lavishness and opulence. It features two bedrooms, a master suite and a guest room. The master suite is appointed with a grand king size bed while the other bedroom features an exquisite queen size bed. Each room has a private bathroom styled with mosaic tiles. The house has a portable air conditioner, a gourmet kitchen, glass ceilings and doors and a large swimming pool. Spend lazy afternoons on a sun drenched beach, frolic in the waves and have a romantic candlelight dinner by the ocean, The Wave Watcher Villa is idyllic for an exotic honeymoon.
Supervista Beachfront Cottages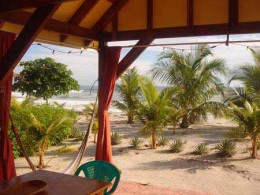 Supervista Beachfront Cottages provides couples a chance to have a luxurious honeymoon within an affordable price. Supervista Beachfront Cottages presents two ocean front bungalows adorned with elegance and simplicity. Each bungalow has a single bedroom, a loft and an open deck. The bedrooms are appointed with a queen size bed and have air conditioners. There is small kitchenette in the cottage with all the amenities such as a refrigerator, freeze, coffee maker and stove. The bungalows have private bathrooms, outdoor and indoor showers, wireless internet and vast patios with hammocks. Standing against the backdrop of jungles and fronted by the ocean, you are going have a splendid and sweet honeymoon at Supervista Beachfront Cottages.
Casa Yin Yang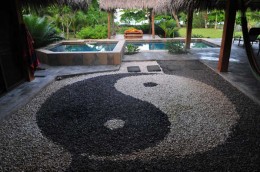 Casa Yin Yang House is a deluxe ocean front vacation rental spread over a land of 5000 square feet. It is a private property which is open for rent only during the holiday season. If you want to spend your honeymoon in total opulence surrounded by picture perfect panoramas, then Casa Yin Yang is a place to be! Guaranteeing a secluded and intimate time, the house has been a popular accommodation among couples. Some of the luxurious features include a private backyard facing the ocean and a large garden blossoming with unique plants. The house is constructed with teak wood and stone. Indoors have a modern Spanish interior decor. There are three bedrooms, a massive social area, a terrace, swimming pool, Jacuzzi, a kitchen and palm-roofed rancho with wide hammocks and a sundeck. During your honeymoon, you won't have to lift a finger and this is why you will have gardener and full time housekeeping services. At Casa Yin Yang House, walk on a path of lavishness and comfort.
The above mentioned vacation rentals are situated on the Southern Nicoya Peninsula of Costa Rica. All of them offer impeccable services and a desirable seclusion. Even though they are far away from the hustle and bustle of the town, it is very easy to access the markets and other facilities. Honeymooners have a superb opportunity to try out new sports and thrilling adventures. Have a perfect blend of tropical beauty and merry times during your honeymoon at Mal Pais.