Manzanillo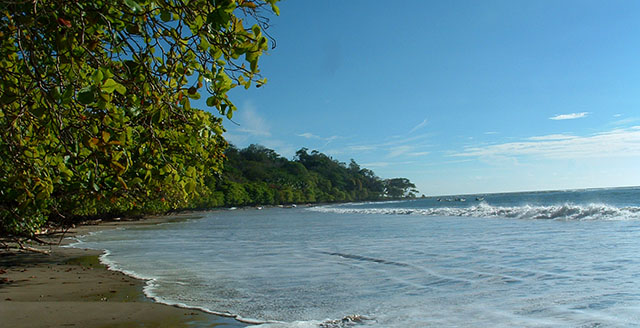 Manzanillo is a small flat beach protected by an underwater rocky reef that keeps big waves off the beach, so its a great place for families with kids. Although real estate prices in the area have already climbed very high, there is little infrastructure here. Just a couple of hotels and restaurants, mostly Tico style. One of the beachfront restaurants is famous for having the best lobster in Costa Rica and people drive many miles for a sunset dinner here.
The actual town of Manzanillo is set back from the beach a kilometer or so. The whole area is known to be part of "real Costa Rica" with more Ticos than foreigners, and life here hasn't been changed so much by the influx of massive tourism. This is changing of course, but for now it's still a great place to visit and check out that lobster dinner.
The area in the hills just behind Manzanillo is called Betel, and it's one of the best real estate investments in the area. The prices there will likely double or triple in the next two years, as they've done in other areas behind the beach communities. But, much of this land isn't titled, so be careful when investing.
Manzanillo Beach is located just north of Santa Teresa, a beautiful beach town on the Nicoya Peninsula, Costa Rica. Santa Teresa is known for its stunning beaches, awesome surf breaks, sun-basked afternoons and thick rain forests rich with wildlife. Manzanillo is a lonesome beach known for its great surf spot, snorkeling points and gently swaying palm trees. The beach is a family friendly place where parents and kids can have a quality time together. Even though Santa Teresa is a very popular place with frequent influx of tourists, Manzanillo has somehow remained an isolated area. Rejuvenate yourselves with your loved ones under the tropical sky of Manzanillo.
Getting to Playa Manzanillo
Playa Manzanillo is just a 20 minutes drive away on the northern side of Santa Teresa. The beach has a peaceful ambiance without any signs of development. The quiet and serenity combined with coos of birds and sounds of waves crashing the bay will definitely make you feel tranquil. People can access Manzanillo by taking a drive on Highway 160 or through a ferry ride from Puntarenas to Paquera or Playa Naranjo, both areas located nearby the beach. Travelers can also visit the beach by taking a plane from San Jose or Liberia to Tambor, a town near Manzanillo.
The Beach
Manzanillo is a family oriented beach superb for swimming, picnicking and snorkeling. Swimming is only recommended during high and mid tides because during low tides, the sharp rocks become exposed. However, these rocks also lead to a shallow basin with a scrim of rocky sand bar. This bordered lagoon is awesome for snorkeling. The morning hours are the best for snorkeling as the water is well lighted by the piercing sun rays. A few steps from Manzanillo, Playa Ario is presently known to be an ideal place for swimming. Rio Bongo, a beautiful nature reserve park, is situated closely by the beach and it has started an organization to protect the sparse number of sea-turtles and their eggs left on Manzanillo.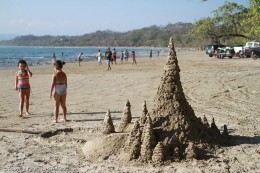 The best time to visit Manzanillo is during the month of March. March brings the locals' most favorite competition of the year, 'Sandcastle Contest' which is held every year in Manzanillo. When the sun rises, people from all over the country come to claim their spots on the beach and start building sandcastles in a creative way. The party usually continues through the night, even after the sandcastles have washed away. Hiking along the coast of Manzanillo is also a popular activity. Tourists who are interested in hiking often begin their journey from Manzanillo. There are a few restaurants by the beach where vacationers can have a taste of delicious Costa Rican sea-food, particularly lobster! Swim, snorkel, dive, explore the reefs, collect the shells or lie under the sun, Manzanillo is a perfect beach suitable for everyone.
The Town 
Apart from the beach, there is a small Tico hamlet of the same name a few kilometers away. The tiny settlement provides foreigners an authentic glimpse of Costa Rica's culture. There are two or three restaurants and cantinas where you can grab a bite. 
Accommodations
The most popular accommodations of Manzanillo are Ylang Ylang Beach Resort and a vacation rental called Casa Noche del Mono.