Santiago

Santiago is a very beautiful area up the road from the international school in Playa Hermosa. This road runs along a ridge, with beautiful, dramatic views on both sides. The area is sparsely populated, but much of the land has already sold to various foreign buyers, even though there is no electricity and public water on much of it.
Wildlife is common here, including many sightings of a type of small jaguar called an ocelot. The soil has a lot of water in it, so its not as dry. However, there is also a lot of grass-covered cattle land, much of which may revert to jungle soon when foreign residents start reforesting.
The Rio Negro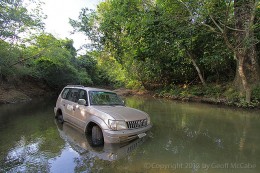 Santiago is a nice area also because it connects to Cobano directly, via the town of Rio Negro. This great shortcut is also one of Santiago's greatest drawbacks, because the Rio Negro floods in rainy season, making it impassable for part of the year, and it seems the municipality abandons it sometime during rainy season, making it a very long drive from here to Cobano because one must go all the way around through Playa Carmen or Manzanillo. A bridge is planned, but it's anyone's guess as to when it might actually be built. Once this bridge actually arrives, it will really increase traffic along this road and development in this part of the peninsula. The photo here shows my car stuck in the river when I tried to drive through during rainy season. I barely managed to get it out, by single-handedly building a path underwater with rocks. If I hadn't escaped, the night's rains would have probably washed my car downriver and perhaps eventually all the way into the ocean to the far north.
There's also an old public road that connects to San Isidro, and it's hardly used. It used to be nearly impassable all year but now even in rainy season you should be able to make it with a 4×4.
Real Estate in Santiago
Real Estate prices had at one point tripled in this area because of its proximity to Playa Hermosa, to the point of ridiculousness. Now it's more reasonable and here as prices have fallen back to earth. It's such a short drive to Playa Hermosa that it's inevitable that many people will move buy or move here. And like the other small towns in the hills above the beach towns, the are is less humid and so it's more "fresco" for living. A few spots in Santiago also have spectacular ocean views.
Another drawback of Santiago is that much of it still doesn't have public power or water! As of this writing, there have been electric poles for a couple of years in the ground without any actual lines being turned on. Some of the houses in this powerless section have been built with solar and/or wind power, which is pretty cool. When power finally comes, these houses can just use it as a backup.
Further Reading
Not much is written about Santiago, but you can find more information here:
Santiago Real Estate – properties for sale here
Santiago – additional info about this area