Punta Barigona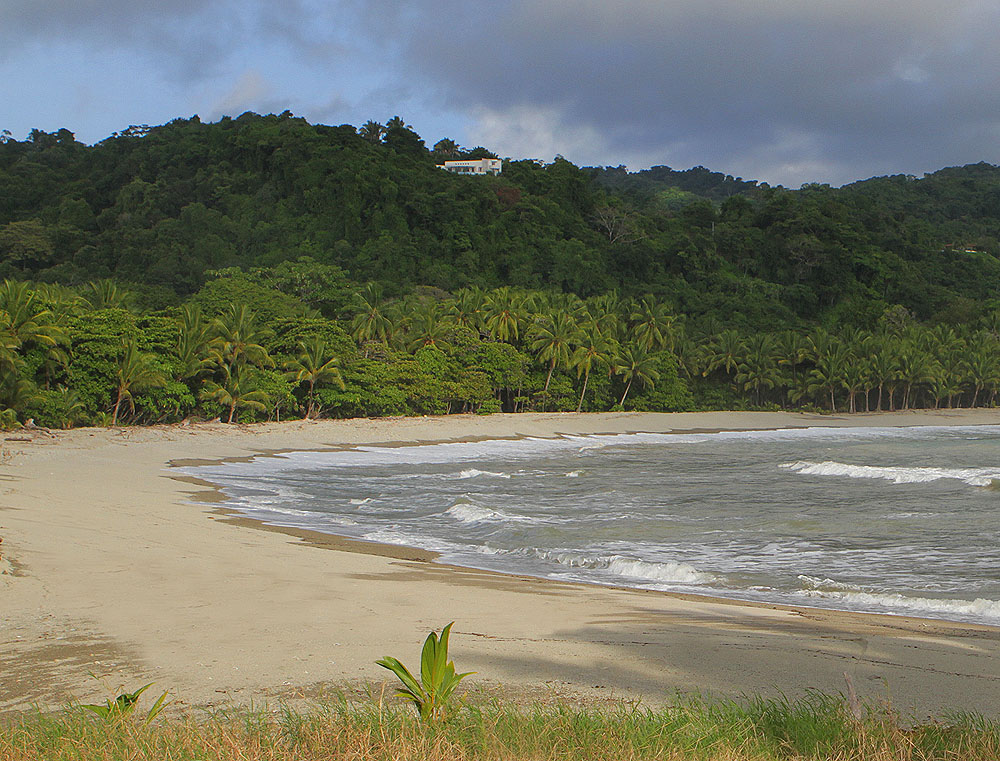 December 30, 2011
Punta Barigona is one of the most beautiful spots in Malpais and yet hardly anyone ever goes there because it's difficult to find. The point is a huge rock, and there are surf spots on both sides of it (Mar Azul and Bahia Barigona). In front of this giant rock is an amazing set of tidepools. Check out photos of them here: Costa Rica tidepools.

Next to the point is a huge flat grassy area. Most of it is public land, and there's rarely anyone ever here.
To get here, drive from the Playa Carmen area south into Malpais, and when you see a large sign on the right that says "Mar Azul", turn right towards the beach. Go to the ends of this road and go to the left. You'll feel like you're driving into someone's driveway, but you'll exit onto the grassy area, and you can park out there underneath a palm tree.
To your left will be a beautiful protected cove with hardly any waves, which is in direclty in front of the well-known luxury villa rental March House. At low tide, it's mostly rocky, but at mid/high tides, it's a gorgeous white sand beach with hardly anyone on it. It's very safe for kids.
On the other side of the cove is a mellow lefty point break inside the bay, which is good for beginning surfers.
High on the hills up above, you can see various villas such as Mel Gibson's house, and both Casa de Amor and Villa de Amor.
This is a great place to go on a day when you're surfed out or want to spend the whole day on a tranquil beach without a lot of people around.
The huge rock is more like a secret spot which very few tourists know about. It is one of the Malpais' regions well known local landmark that few visitors take the trouble to actually go to. The rocks here are known to flat out to the south of the Mar Azul and hence there are a large number of gorgeous tidepools in the area.
To discover this scenic and sparsely populated spot, visitors have to drive out towards Mar Azul, and instead of halting there, keep driving to its left. This narrow drive path snakes through some charming quaint homes on the left, and then takes visitors to a large grassy region that few tourists ever reach up to. Most times you might be the only one out there. On the left hand side is one of the Malpai's famous landmarks: the Bahia Barigona, which is known to be one of the most picturesque spots in the Nicoya Peninsula. It also has a virtually secret surf break that is superb for beginners and those seeking less erratic waves especially kids.
Further down south, the region around Mal Pais is another popular surf spot. On large swells, the pointbreaks of Punta Barigona and Boca Barranca offer some crazily lengthy rides. If you're more an adventure freak seeking lesser sought after destinations that aren't populated by the boisterous tourist population, this may be a good halt for a day trip. It reveals the less explored aspects of the Malpias region, while also bringing to the fore the best that the region has to offer in terms of natural grandeur and a spectacular eco heritage. If you're not a beach and surf bum, just admire the rock formation and the inviting tide pools in the region or simply cherish the action packed drive to this spot.