Casa de Amor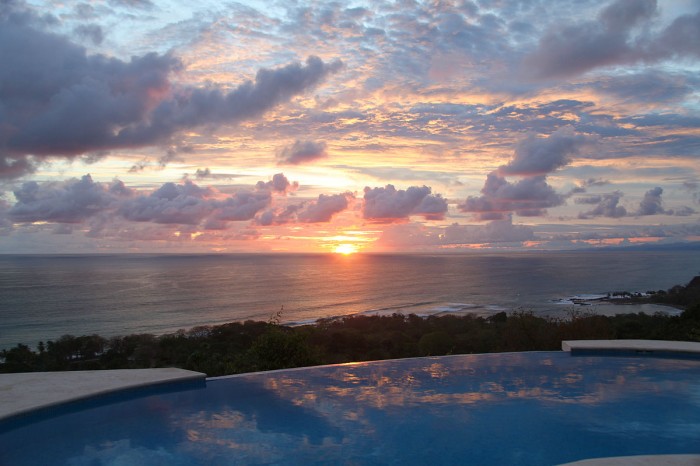 Casa de Amor is absolutely private and is considered the most romantic house for rent in the Malpais/Santa Teresa area. This area does not have any no other houses with in 500 meters radius. Whether you are planning on the special marriage proposal or your much awaited honeymoon, Casa de Amor will definitely be a your very own private memorable paradise. You will not have problems with a last minute guest as it also provides one more double bed.
The View
Being the owner of Anamaya Resort and of Tropishere real estate, I can say that I have seen and admired every possible view in this area including Mel Gibson's land. Part of my top three fantastic views in the area is from the Casa De Amor rental house. You can have the breathtaking top view of the famous Mar Azul, the Sunset Reef surf break. The entire house will have this incredible view even in the bathroom. If you want to distress from the hustle and bustle of Costa Rica then be more than relaxed and be in trance with this enchanting rental villa.
Private Infinity Pool
Casa de Amor gives you the perfect vacation experience. You can have brand new infinity pool all for yourself.  Relaxing views are very therapeutic, so indulge yourself with hours of just staring out to the sea while listening to the sound of the jungle at the foot of the hill. The pool is perfectly positioned where you can get the warm of the sun all day long.
House Design
The Villa is ideally designed for the tropics where you can feel one with nature but still be in the comfort of a private fully functional house. Upon entering the house, you will feel the spacious vibe of the place because almost all the walls are glass and creates a light ambiance. You will find the huge kitchen across the bedroom. Another unique feature of this house is the bathroom. Again, be one with nature and have a refreshing shower in open air with a view of the vast ocean through a large window. A stylish design that is a must see for other architects in Costa Rica. Yoga/Pool Deck Aside from the lovely pool, yoga lovers will adore the 20 feet x 20 feet size poolside yoga deck. The yoga deck is made with Almendro wood, simply one the best kind wood available. It's a nice area where you hang out during the day while enjoying the shade.
Other Malpais Beaches Nearby
After the alone time, you don't have to go very far for a good meal or other beach activities. The famous Mary's Restaurant is located near Casa de Amor. Other restaurant choices nearby are Beija Flor, Papaya Lounge at Moana Lodge and the Vistas de Olas restaurant Spend the day in the beach with perfect white sand of Malpais's "Secret Beach" (Playa los Suecos) This tropical beach is best explored while swimming in the tranquil waters and snorkeling in the best spot in Malpais.
Other nearby beaches
Playa Los Suecos – Nearby white sand beach for swimming/snorkeling
Punta Barigona – Tidepools and beautiful white sand cove
Mar Azul – Point break for surfing
Surfing in Malpais
Surfers will also have a great time in Malpais with 4 good surf spots namely the Sunset Reef, Mar Azul, Bahia Barigona, and the Malpais Secret Spot.   Playa Carmen, which is about only a 6 minute drive is known to be the most sandy beach break in the area. Farther north you can find other beach break points such as Santa Teresa, Suck Rock, Playa Hermosa.  
Other Details:
Beds:  Casa De Amor has two queen sized beds.
Wireless Internet: High speed wireless internet ready. You will be provided a password connect.
Barbecue Grill: American Style gas grill is available if you want to grill your own seafood. (you can catch your own or buy fresh fish from fishermen around Malpais)
Kitchen: The kitchen is fully equipped with a four-burner stove, a large refrigerator with  ice maker, pans and pots for your cooking needs.
TV: The TV has cable with a huge variety of international channels perfect for international guests.  Music channels are also available.
FAQs:
Casa de Amor is a 3-minute drive (4WD vehicle is needed) if you want to go to the main beach road. Although it is possible to do it by foot, we don't recommend it.   A mini grocery/convenience store is located on the main road, going south from Mary's Restaurant.
Video of Casa de Amor, Malpais Costa Rica: