Casa Blanca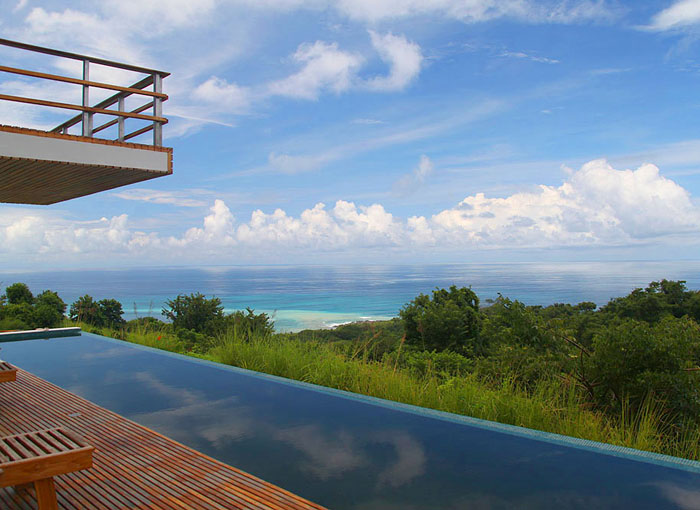 Casa Blanca is known for being an exceptional designer mansion in Malpais.  This modern eco home has two floors with three inviting bedrooms. The top floor was made into a roof deck/terrace with the most captivating view. Perfectly situated on the hilltop, this house gives you the advantage of spectacular Mal Pais bay nature views. The Mar Azul beach is just a kilometer away but you can also take pleasure in the Infinity pool (20 meters) perfect for lap swimming.
Bedrooms:
The Casa Blanca Mansion has 3 special bedrooms. Each room has its very own unique view. The most private and isolated room is the Mar Azul Master bedroom with a balcony view of the bay.  The room is fully air-conditioned. To set any mode or ambiance in the whole house, you can control all the lights from this room. The lights are especially  designed by Lutron lights.  For your entertainment, you have an incredible 42" Flat Plasma TV. A lovely feature of this room is the bathroom finished with special Italian Hazel tiles. You have a choice of an indoor or outdoor shower. The indoor shower with give you the experience of a how it feels to bathe under the waterfall or rain and even feel being massaged. The outdoor shower has a balcony with a vast ocean view. That's not all. This luxurious bathroom will take away all your stress with music coming from the ceiling and the romantic soft lighting. Another room is called the Jungle View Guest Room. You or your guests will be enjoying another nature view – the Cabo Blanca National Park. This room has a fixed closet complete with a vanity dresser. The Third Guest room is called Sea View Room. Indulge in the most dramatic sunset view and the infinity pool. All the rooms are air conditioned and have flat screen televisions. Wireless internet can be accessed in the entire house. There is constant ocean breeze all though out the day. You can expect total privacy and reliable security.
Dining and Kitchen:
Good food is always part of a wonderful vacation. The Casa Blanca's kitchen is completely operational and fully equipped for all your cooking needs during your stay. For your grocery needs or in search of a restaurant, you don't need to go far. Soda Piedras and Mary's are located just down the hill. We can also assist you if you are considering arranging for a personal chef for your entire stay or to serve you for a special event. We recommend ono . They also offer catering services.
Casa Blanca Amenities:
This house will never run out of a place where you can relax. The living room is designed with a modern touch. The cushions are so comfortable and are just the perfect spot to unwind. The room is facing the infinity pool side and the sunset. After a swim in the pool, sunbathe on deck furnished with unique outdoor fixtures. Be entertained in the TV area. Have your very own theater/cinema experience with the roll-up electric TV screen (8 foot), digital Projector and high end speakers. All the bedrooms and TV lounge has SKY TV. A Mac computer is available. You will not have a problem with security and maintenance. A caretaker and cleaning crew will be there to assist you. Aside from the dependable alarm system of the house, there is also a security closet for all your valuables.
Services:
Tours and activities we can arrange for you, and there's lots to do in Malpais. Some of the most popular activities are Cabo Blanco tours, Montezuma waterfall, fishing, snorkeling, zip-lining, surfing, horseback riding etc.