Playa Mar Azul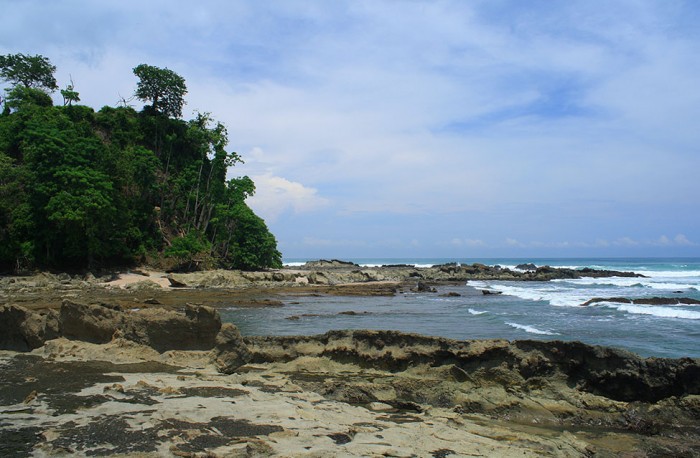 This is an easy spot to find in Malpais… just look for the Mar Azul signs. The beach is one of the few sandy spots on the Malpais (south) side of the crossroads, and a great break with an easy wave to catch that's out in front of the remains of the Mar Azul restaurant/cabinas. To the left (south) of the beach is a huge rock which is one of the landmarks of Malpais.
Up until a few years ago, Mar Azul was a really great local restaurant where you could get fresh fish and lobster for a very reasonable price, cooked Costa Rican style and served to you right on the sandy beach. It was a great tragedy for the area when the Cobano municipality decided to shut it down, because the restaurant was built illegally on public land. Now, occasionally special events and parties take place here at Mar Azul, but it doesn't have a regular restaurant like it used to.
Surfing Mar Azul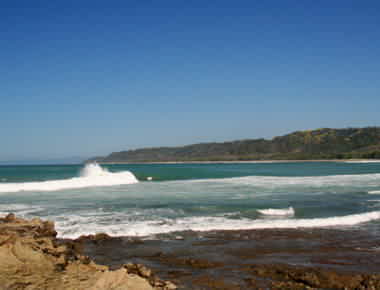 Mar Azul is the most popular surf spot in the Mal Pais area, but still you'll usually find no one there. Most people go to Santa Teresa and Playa Carmen, where the waves are more consistent and less rocks. But if your hotel or rental villa is nearby, you may want to check it out to see if it's breaking.
Because of rocks, this wave should be surfed only around high tide, and it's better when the swell is big. At times, Mar Azul can be working when the popular beach breaks farther north are closing out.
Some people have remarked about the breaks further out, on large rocks, which can form great waves under certain conditions. For soul surfers looking for adventure and unsurfed waves, Mar Azul is a great spot.
Stuff Nearby
Around the other side of a large rocky outcropping to the south is a beautiful sandy cove that you will most likely find nearly deserted (Bahia Barrigona.)
Hotel Beija Flor is the closets lodging, and there's an Italian restaurant nearby also.
Article on the Tidepools of Mar Azul: Costa Rica's best tidepools
Photo Gallery
Video: Million Hermit Crabs March at Mar Azul
Mar Azul Google Map