El Rey Patricio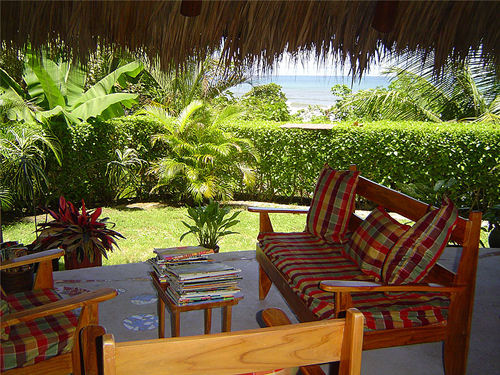 El Rey Patricio Hotel offers guests the best of each area owing to its location bang at the middle of Santa Teresa and Hermosa beaches. Guests can find several recreation options and services within easy reach, while also being lulled into a relaxing sleep in the backdrop of the mesmeric ocean sounds.
The hotel offers accommodation for 12 people in two bungalows of two-bedrooms and rooms. The hotel offers a perfect combination of seclusion and access to local activities/attractions. It is a clean, naturally inspiring, pleasant and reasonably priced property that. Right in front of the hotel there are beautiful natural pools called Poza de Cambute where guests can go snorkeling, swimming or just relax near the coast.
The hotel offers accomodattion for 12 people in two bungalows of two-bedroom and rooms. It's the kind of hotel very familiar, very cozy, just for the ones who are searching for something intimate. Also in front of the hotel there's beautiful formations, natural pools called Poza de Cambute where you can explore snorkeling, swimming or just be relaxing near to the coast.
Accommodation and Amenities

El Ray Patrico offers several accommodation options for different traveler groups. Here's a lowdown on their stay options.
For their accommodation, guests can choose to stay in the romantic cottage or in the charming  bungalows right on the beach where they can take in the poetic sunset of Playa Santa Teresa-Mal País. They can also enjoy some delectable local cuisine at the in-house restaurant "Tapas" with good music, great tourist and local company and enjoyable activities. The following are the amenities offered by the property
Romantic Room- The romantic room features a double room ideal for couples or single travelers. Guests spend a few days right in front of the ocean by booking a cabin. This option comes fully equipped with WI-FI, fans, private bathroom and double bed. Outdoor hammocks where guests can relax with the Rey Patricio sunsets or refresh in the outdoor shower are also available.

Bungalow Superior – This option is great for families, couples and groups of friends. The two bedroom bungalow fully is equipped for 5 people (AC, WI-FI, hot water, bathroom, fridge, mosquito nets on the beds) with a large terrace and private parking. Relax in your hammock while watching the sunset, tune in to the magical rhythm of the splashing waves and enjoying sights of capuchin monkeys running around the banana trees.

Bungalow Familiar – This is a fully equipped Bungalow for 6 people perfect for a family holiday or friends in a cottage by the sea. It has air conditioning, WI-FI, fridge, mosquito nets and hammocks on a large balcony overlooking the ocean. You can enjoy the Poza del Cambute views, a natural pool during low tide, perfect for snorkeling and swimming in the sea.

Double or Triple Room – This room features a double bed with beautiful terrace with hammock from which you can watch the most picture perfect sunsets in Santa Teresa. It is a fully-equipped room with WI-FI, air conditioning, mosquito net, fridge and terrace. Ideal for couples or singles, it also has a shared bathroom with another room offering similar features.
Amenities offered by the property include spacious and fresh rooms furnished with ocean view, a balcony, double and single beds, hot water, private bathroom, fans and mosquito nets, hammocks and private parking. In addition there is a restaurant specialized in home cooking Argentinan food, pizzas, crepes, fresh seafood with daily specials.
Activities and Attractions
El Patricio's location allows travelers to enjoy an adventurous holiday, a romantic vacation or an action packed natural break. Guests can surf, watch exotic animals like monkeys, squirrels and raccoons or enjoy a relaxing tropical cocktail in a hammock, while the warm sea breeze swooshes past them. Other activities in the region include quad biking, canopy tours, night safari, bird watching, horseback riding, surfing, deep sea diving, snorkeling, day trips and nature reserve outings, forest hikes and more.
Right in front of El Rey is the area's most amazing giant tidepool, great for families and snorkeling.
Contact El Patricio
Website: El Rey Patricio
Telephone: (506) 2640-0248
Email: [email protected]