Playa Los Suecos
Also known as "The Secret Beach" or Punta Murcielago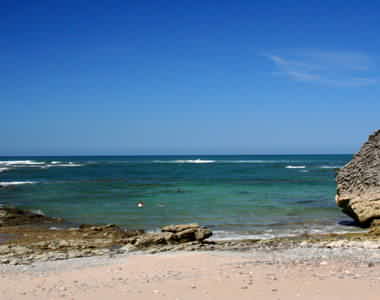 A secret spot at the far end of the Malpais road, this special cove is just on the other side of a towering rocky knoll, known also as "Playa los Suecos", the "Swedish Beach". The last leg of the road to get here is sometimes horrendous, but drive-able with 4WD. Just turn left when you reach the old abandoned Sunset Reef hotel, which is at the Fisherman's beach (Playa Malpais). At the end of this road you'll find a parking area and a trail down to the beach on the right. A sandy cove is protected by a rock reef, where myriad fish frolic in the surf. It's a great area for snorkeling and swimming, and you can often find it deserted. Check out the two videos I made that are the bottom of this.
Probably because it's next to Cabo Blanco's protected marine reserve, this spot is really great for seeing fish, eels, octopus, sting rays, sea turtles, lobster, etc. I've held gigantic hermit crabs nearly the size of a grapefruit too. People come here for spearfishing to hunt the unfortunate snappers and groupers that stray from the protected waters next door. The other reason that it's great for snorkeling here is because of the rugged topography of the rocks. There's many racks, crevices, caves, and boulder fields for fish to hide in. Plus a rock reef outside protects this beach from heavy surf, making the water more tranquil.
The Super Low Tide
In the first video below, and the Google Map, you can see what happens during a super-low tide. A long berm of rocks is exposed, allowing you to walk far out into the sea, and there you'll be able to spy on all types of rare sea creatures trapped in the pools that normally you'd need to be diving or snorkeling to spot.
Bat Caves of Malpais
This area is part of Cueva Murcielago Wildlife Refuge (Bat Cave Wildlife Refuge), and there's also an entrance to Cabo Blanco National Park, but it's only for staff/rangers. The public entrance to Cabo Blanco is in Cabuya.
The bat cave is difficult to get to. It's on the west side of the huge rock there, facing out to sea. The terrain that you have to climb over (not hiking but more like crawling) is basically the most rugged, jagged, and sharp set of rocks you will ever encounter on earth, so almost no one ever goes there. You can see the cave, as seen from the ocean, in one of the videos below. Inside you'll find thousands of bats. Remember, bats are our friends! They eat zillions of bugs. Mosquitos, gnats, and other things that are far worse than the bats themselves for humans. So appreciate them. In fact, if you're living here, you should build some bat houses near your home and let them help you out with your bugs. Plus, their poop (bat guano) is one of the best fertilizers.
Punta Murcielago
"Bat Point" is a huge rock that's part of the Las Cuevas National Wildlife Refuge here. It's one of the most beautiful geological features on the peninsula, and the subject of many photographers who are trying to capture a photo of a perfect beach paradise. Covered with vegetation, with no path to the top, the only way up is to climb straight up the cliff face! Sounds crazy? Well now you can actually do it with a Tour Company specializing in: Rock Climbing.
Snorkeling
This is one of the best free snorkeling spots anywhere in Costa Rica. More information can be found in a more extensive article here: Snorkeling Malpais
Video of the Secret Beach in Malpais
Google Map of Playa los Suecos