Community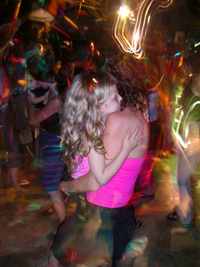 Malpais and Montezuma, along with Santa Teresa, Manzanillo, and Cabuya, are small beach-side villages that have a very similar mix of people. Most of the native "Indian" cultures of this part of Costa Rica have been absorbed into the population many decades ago, and since then, there has been a constant stream of Costa Ricans from the mainland, and foreigners moving to the area. Generally the Ticos (Costa Ricans) moving to the area are looking for work or a family farm by the beach. Foreigners generally come to escape the rat-race culture back home, and are hoping to live "in paradise" on a tropical beach, with a simpler way of life. To make money, most are involved with catering to foreign tourists, although a few have found that their technical skills, such as electricians, are highly in demand due to poor local knowledge and training.
Unlike Guanacaste Province to the north, there are far fewer elderly retirees, probably because there's no large hospital nearby, and because of the bad roads and general lack of services. The Southern Nicoya Peninsula appeals to adventures, people who secretly wish they could live like Tarzan, professional surf bums, and younger retirees who are trying to re-invent themselves in what they see is a much better place to live their lives and raise a family. Very many of the foreign couples who move and live here have kids, who grow up learning multiple languages, climbing trees, and becoming expert surfers, horse-riders and yogis.
Then there are those who came here on vacation, and were so enraptured by the area's beauty and ambiance, that they simply couldn't bear to go home. So they didn't. They're here until the money runs out, often working for Costa Rican wages, or trying to start a small business, living cheaply and enjoying Costa Rica's extravagant natural bounty for as long as they can.
| | | | | | |
| --- | --- | --- | --- | --- | --- |
| | | | | | |
| Art & Craft | Conservation | Fashion | Health & Healing | Music & Dance | Sustainability |
Art and Craft Community
Crafts – Many people subsidize their income by producing small artistic products, such as Claudia in Cabuya, who produces beautiful lamps out of natural materials. The work of these artists can be found in some of the area's gift shops, or sometimes at the Organic Market on Saturday.

Galleries – Santa Teresa has several galleries, the most well known is Margfiet's "Zwart Cafe" and Gallery. Also, check out Alex Lanau's graphic-style surf art at his t-shirt shop in the Playa Carmen Mall. In Montezuma, Playa de los Artistas restaurant has a small gallery of the owner's paintings.

Jewelry – Many talented young jewelry makers are on both sides of the peninsula. In Santa Teresa you can find a few of them set up on the beach in front of the pizzeria in Playa Carmen. In Montezuma, they are lining the streets with small tables of hand-made wares.

Painters

Santa Teresa Art Facebook Fan Page: Click Here

Conservation

Fashion

Health & Healing

Music & Dance

The Gaudan Project – Gaudan Project Fanpage

Sustainability

Rancho Delicioso – Check out www.ranchodelicioso.com, a local organic farm, green building, permaculture, and volunteer center in Delicias.