Snorkeling
Where to Snorkel around Santa Teresa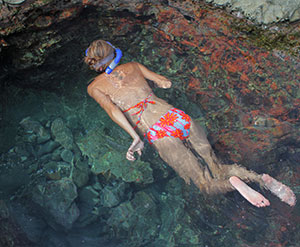 This area isn't just for surfers! Snorkeling can be amazing here, especially in dry season, when the water is more clear. Any time of year, there's tons of sea life in there, but due to dust and dirt that runs from the rivers into the ocean during heavy rains, you can't see much during "green" season, which is May through November. The water is always warm, however, and a wet suit isn't needed.
Best places to snorkel
Playa Tequila – The rocky reefs and tidepools just north of Playa Hermosa have a ton of life and hardly anyone ever goes there. If you're staying in Playa Hermosa, you can easily walk up there.
Playa Hermosa Giant Tidepool – The best spot is probably the huge tidepool south of Playa Hermosa and across the street from El Rey Patricio hotel. But, it's only accessible at low tide when waves aren't pounding across it.
Mar Azul Tidepools – Lots of amazing tidepool sealife (Click here for photos) and fun to explore.
Los Suecos – The "Secret Beach" is the best place. Tons of fish and creatures due to being next to Cabo Blanco marine reserve. Octopus, sea turtles, huge rays, etc.
Las Manchas – Just south of Montezuma is this small, pretty beach, with great snorkeling out on the right side.
Cabuya Island – Legend has it that this is the best place to snorkel, but every time I've been there the water has been too cloudy to see anything. It should be good here, since it's next to Cabo Blanco.
Tortuga Island – Your trip to the Southern Nicoya Peninsula isn't really complete without a visit to Tortuga Island. It's super popular, and for good reason. The snorkeling is the great there, despite the large number of people.
Video of Snorkeling at Tortuga Island
Snorkeling in Costa Rica
The Republic of Costa Rica is famous for both its terrestrial and marine biodiversity and it is a popular holiday destination for tourists on a budget, thanks to the wide array of affordable recreational activities. The serene beach towns of Montezuma and Santa Teresa, nearby Malpais are located on the southern tip of the Nicoya Peninsula and they offer plenty of relaxing and fun activities to adventurous tourists looking for a truly memorable vacation on the Caribbean Coast. Snorkeling is a very popular leisure activity in Costa Rica, because it is safe, inexpensive, educational and very rewarding and furthermore, it is suitable for the entire family. The immaculate white sandy beaches Playa Santa Teresa and Playa Montezuma in Puntarenas Province are preferred by A-list celebrities who choose to enjoy an exotic albeit peaceful and relaxing Caribbean retreat and immerse into all kinds of beach activities.
The crystal clear and constantly warm waters in the eco-friendly Santa Teresa /Malpais and Montezuma areas are perfect for snorkeling, because they offer consistent, optimum visibility and they can be explored year-round. Marine life enthusiasts who are looking to get up close and personal with the likes of Nemo and other underwater Costa Rican creatures can choose to embark on an aquatic journey to discover the underwater biodiversity on their own or accompanied by a professional guide. Snorkeling is very easy, technically effortless and it does not require any special snorkeling skills, nor the training and more complicated gear for scuba diving. The snorkeling gear ( the snorkel, diving mask and fins) is available for rent along the shoreline and hiring a boat is the best way to get close to the live coral reefs in these areas for an unforgettable underwater adventure.
Santa Teresa and Montezuma are among the best locations in Costa Rica for snorkeling, thanks to the diverse underwater ecosystems of these beach towns, such as the coral reefs and rich marine life in these unique places. Snorkeling in the Costa Rican clear waters is an excellent opportunity to observe in their marine habitat a wide range of aquatic micro and macro-organisms such as plankton, algae, nudibranchs, colorful reef fish including Moorish idols and angelfish, Olive Ridley and green sea turtles, anemones, moray eels, sea horses, spotted eagle rays, bottle-nosed dolphins and even the harmless white tip sharks. The diverse underwater rock formations are also worth observing.
This fun and educational activity is very easy even for a novice who is looking to immerse into and fully enjoy the great aquatic realm. A little bit of snorkeling instruction and guidance which is offered when you rent the gear is beneficial in order to help you achieve a tranquil confidence in the water, because the secret to the best snorkeling adventure is getting as relaxed as possible. While snorkeling, breathing is done by mouth only. First of all, make sure the mask seals very well around your face. Learning how to clean the mask and snorkel when they fill with water is also important in order to be able to enjoy a longer, uninterrupted underwater journey.
A flooded mask can be cleared by placing the hand on the upper edge of your mask, then turning your head sideways and blowing air through your nose until the water is removed. To clear the snorkel, simply exhale a burst of air through the mouth, breathing in warily in order to make sure all the water is evacuated. Because condensation forms on the inner surface of the mask, thus clouding the mask, you will be given a "de-fog" solution to use on the mask prior to diving into water. If the mask fogs while you dive, allow a little bit a water to flow into the mask and clear the fog. Novices are encouraged to use first the snorkel out of the water and then progress to the shallow and calm tropical waters of Santa Teresa/ Malpais and Montezuma beaches in order to develop that calm confidence for a relaxed and serene aquatic adventure.
While in shallow waters, deliberately flooding the snorkel and mask can help you develop snorkeling skills. Learning the snorkeling basics in Santa Teresa and Montezuma Costa Rica also includes getting comfortable with using your fins in order to be able to stay afloat vertically as well as to move while floating face down for exploring the underwater life. You should also practice breathing evenly through the snorkel as you are swimming along the surface. Moving around in the calm waters can be achieved by using the basic flutter stroke. Use a comfortable and slow pace ( 20 kicks per minute) as you kick and always keep your snorkeling fins submerged in the water and your arms at your sides to decrease drag. The dolphin kick is also very efficient, but more difficult for beginners. The simplest type of dive is the feet-first dive and, as you start to descend, you should exhale a small amount of air, thus allowing you to sink easily underwater. Remember that relaxing your body is very important when snorkeling, in order to be able to fully enjoy the diverse aquatic scenery of the tranquil and warm waters in Costa Rica for an extended period of time.
Thanks to Scuba Diving Costa Rica – Google+ – www.costarica-scuba.com