Suck Rock Point Break in Santa Teresa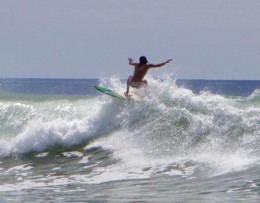 One of the most legendary surf breaks in the Malpais/Santa Teresa region is known as "Suck Rock" or sometimes "Rocamar" which is the small restaurant on the beach near the break (a great place to go by the way.)
This right-hand point break can be good when the swells are large, and it's known to get hollow at times. This is Malpais surfing at its best. The break can work at all tides, but it's best at low tide, and during this time, your friends and family can walk out on the rocky point to watch you surf and take photos. The photos in the gallery below were taken from this natural jetty on an average day.
Next to Suck Rock, to the south is one of the most consistent beach breaks, on the gorgeous white sand beach known as "La Lora". The surf competitions are sometimes held here, right in front of the luxury villa rental "The Sea Ranch". This is truly one of the prettiest beaches in the area, among a large selection of incredible spots, the beach here really stands out. Tourists who are staying in Santa Teresa come back to this spot again and again, and many book a hotel or rental villa specifically to be within walking distance. Staying here, with the many restaurants nearby, means you really don't need a car to enjoy the best of what Santa Teresa has to offer, although renting a quad for a day or two to explore the area would be great idea.
Sometimes, professional surf photographers or videographers will hang out here under the palms, and offer to pay to get your awesome surfing action on pixels for you for a fee.
How to Find Suck Rock
There's a parking area here and to find it, just turn down the beach access road at La Lora Amarillo night club. The road is not actually legal and neither is the parking area (it should stop before it gets all the way to the beach) and the neighbors have tried to enforce this before, but surfers always opened it up again, and so usually you'll be able to find a dozen or so parking spaces here under the coconut trees. Remember, as in all beaches in Costa Rica, breaking into tourist cars is practically a national sport, so don't leave anything that looks like it might be worth stealing visible in your vehicle.
From the parking area, you should see the rocks to the north, so you can walk down the beach. Most of the time, no one is actually surfing the point here but instead prefer the peaks on the beach break.
How to Get There:
This break is in north Santa Teresa, at the beach access at Roca Mar restaurant, which is just south of Red Palm Villas, Hotel Milarepa, and Florblanca Resort.
Suck Rock Photos:
More Info
Costa Rica Surf Camp and Yoga Resort Center – Surf Camp in Montezuma
Playa Santa Teresa – More about this beach at "La Lora"