Wedding Entertainment for Malpais and Santa Teresa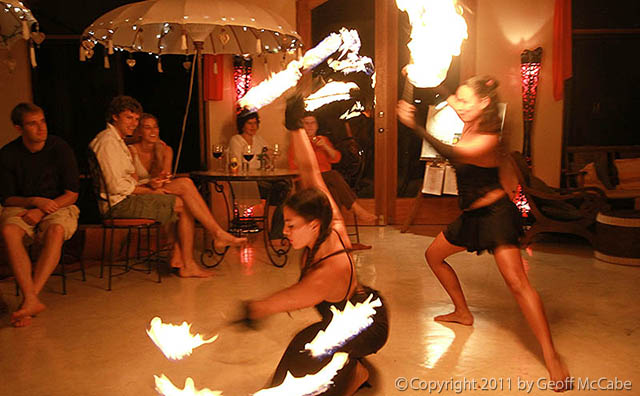 Santa Teresa, Malpais, and especially Montezuma have an incredible number of talented people that you can hire to perform at your wedding. Probably the most popular wedding entertainment in Costa Rica is firedancing, which is always guaranteed to create a very memorable event.
Fire Dancing Videos
Firedancing is where performers spin fire with a various assortment of tools, doing tricks and generally dancing while doing it. Many will have beautiful costumes, and a few can even do more spectacular tricks such as fire eating or fire breathing. A typical fire show for a wedding lasts no more than 10 minutes.
Check out the following video links to see what fire dancing is all about:
Fire Eating Video – Fusion from Pyrosutra doing advanced fire eating.
Montezuma Fire Dancing Video – Joseph performing with his staff in Montezuma.
How do you find fire dancers for a wedding? Ask at your hotel, or call La Escuela del Sol in Montezuma, which offers fire dancing classes. (011-506) 8884-8444 Their teacher, Eli, is amazing and performs frequently in the area. You can check out his skills many nights in the street of Montezuma in front of Chico's Bar.
Aerial Silk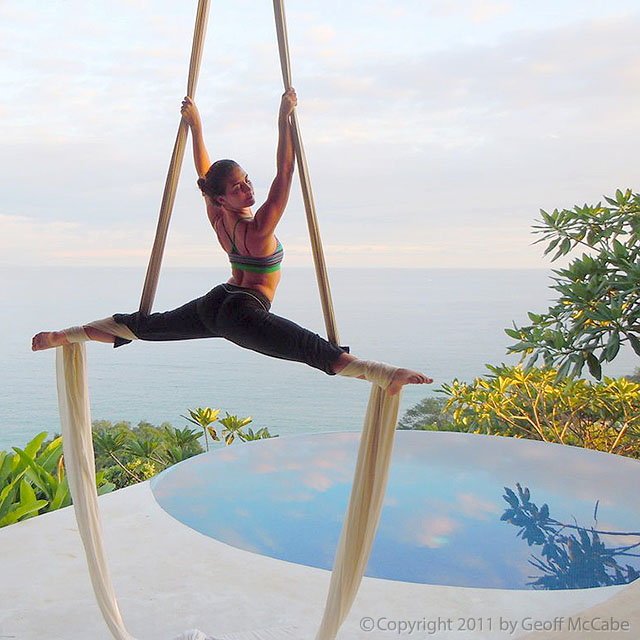 Another popular entertainment option for Santa Tersa weddings is to hire one of the many talented "aerial silk" performers. This beautiful art involves one or two people who climb a long piece of fabric, often hanging from a tree, and "dance" hanging in mid-air. Video examples:
Aerial Silks at Anamaya – Video #1 – Monica Wille from Streb Trapeze Academy
Aerial Silks at Anamaya – Video #2 – Ana Prada, former Cirque du Soleil Performer
Where to find them? Gabi, one of the owners of Funky Monkey Lodge in Santa Teresa, is an aerialist and she can either do the show herself with friends, or can recommend someone. Funky Monkey offers aerial silk classes from time to time as well. Another aerialist, who is the most experienced and taught many of the performers in the area, is Francesca, who teaches yoga at Beija Flor in Malpais, so you can track her down there.
Wedding Music
Wedding DJ: When planning a wedding, many people also like to hire a DJ to provide music for dancing. One great option is Mr Black, and you can find more about him here. Another option is Peter, the owner of Ranchos Itauna, a beachfront place in north Playa Carmen.
Live Band: There are also live musicians living in the area, in case you'd like a live band to play for your guests at the wedding. Bands come and go, so by the time you read this, whatever recommendations I make may be outdated. However, two places to try are to call Philip, one of the owners of Milarepa Hotel in Santa Teresa. Another option is to go to Kina Surf Shop, also in north Santa Teresa and ask there, because they often have a band formed with whatever musicians are around for the season.
Be sure to check with your rental house to find out what type of music system is available. Some of the bigger villas don't have a good system and one must be brought in from San Jose.