Locations for Weddings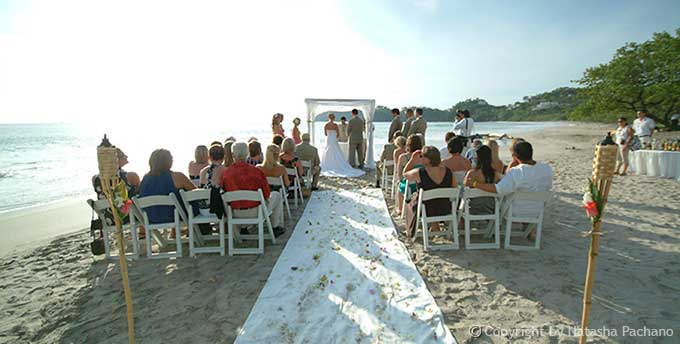 Guide to help you find the perfect location for your wedding
It goes without saying that this is already one of the most beautiful areas of the world, so there must be many very special places to hold a Santa Teresa wedding ceremony. There are natural areas, such as sandy beaches or rocky points, jungle areas, and mountaintops. There are also many private villas and hotels that are large enough or well prepared to host a wedding. Finding the right location is here is trickier than it sounds, because although the area is fantastically beautiful everywhere, you probably want a spot that will work in case of rain, and where there's shade during the day. Most people want their wedding on the beach, which is scorching hot and humid until 5 pm or so. The bride's makeup will be running and the guests will be frying and fidgeting if you plan this during the day. You can try to do it under a tree, but watch out, many trees that are full of leaves when you visit to pick the spot will go into hibernation and be completely barren of foliage during the dry season. Pochote trees are a common shade trickster. Beach almonds keep their leaves all year.
In rainy/green season (May through November) it will rain most afternoons or early evening, right when you would probably plan your wedding.
Housing the Wedding Party and Guests
A common question I get about weddings is where is there a large hotel or rental villa for a big family with guests, etc. For example, a friend of a friend from the U.K. recently asked for a recommendation of a place to stay for 80 guests. The problem is that there are NO places that hold 80 people in Santa Teresa at the moment (which is one of the reasons we love it here.) But, if you plan far enough in advance, you can rent several locations near each other that work together. For example:
Playa Carmen

Atrapasuenos (24 people Max) + Tropico Latino (66 people) + La Casona and The Palm Villas (19 people) = 109 people, and they're all next to each other, with a beautiful white sand surfing beach in front.

Santa Teresa Central

Punta Coco rental villa holds 13 people, and it's right on the point, with a flat, sandy, shady spot year around right in front. The surfing and swimming is 50-100m to the sides, so no one hangs out in front of this villa except the renters. So, it would make a really good choice. You can add on nearby hotel Nautilus (23 people), and have cheaper options for your surf-bum friends such as Brunela's Hostel. Website: Punta Coco Beachfront Villa

Santa Teresa North

Casa Capitan hold up to 37 people, plus Casa de la Luna (12 people)

Playa Hermosa

Pranamar (37 max) + White House Villas (16 max) + 200m away is Villas Hermosas (20 people max) = 73 people. There are also various lower priced rental villas and houses nearby that can be added on.
Spectacular Locations for the Wedding Ceremony
You can probably arrange a wedding in front of any beachfront hotel or rental villa if you're staying there, but here's a few suggestions of extra-spectacular locations that you probably wouldn't know about unless you've lived here for a long time:
As I mentioned above, Punta Coco has a great location for weddings because of the shade, the big flat sandy spot, and the privacy. Plus, it's very affordable (currently $650/nt in high season and $600/nit in low season) for a beachfront house that sleeps so many people. It's right in the heart of Santa Teresa so all your guests can stay nearby, with the honeymoon couple in the master cabina on the beachfront.

Once a restaurant/hotel/nightclub, most of Mar Azul was torn down because it was built in the public zone. The family that lives there rents it out sometimes for special events and parties. It's very spectacular with lots of shade, power for your lights, etc. It's not fancy, but the location is unbeatable and unforgettable. To arrange this location, you'd need to drive over there to talk to the owners in Spanish. Or your wedding planner can do it for you.

A super special beach south of Montezuma, it has a lot of parking, a rivermouth, areas for snorkeling, surfing (at Playa Los Cedros next door), beach-combing, and plenty of coconut trees. You could set up a wedding here in the shade, and there's something for everyone because of the large variety of things to do in one spot. It would be ideal to have an all-day wedding here where the guests get to hang out and explore. There's even a secret waterfall if you don't mind walking forty minutes of the river. Actually, there's two waterfalls up there. But best of all, it's a free location.

The Jesus Tree

One of the most amazing places in Costa Rica, and hardly known to anyone who lives here there's a magical place on the beach between Montezuma and Tambor where a tree "walking on the ocean." It has a beautiful white sand cove, and usually no one there. There's plenty of shade so you and your guests will probably have it all to yourselves. It's accessible only in dry season by car. Also a free location.
Map of Great Places to Have a Wedding Ceremony