Area Info
Malpais and Santa Teresa Areas and Places
Each town in this part of Costa Rica has its own character and style. Malpais is especially unique due to its long history as a haven for eccentric characters from Europe and the U.S. and an area for the rich and famous to escape to without attracting attention.
Maps of the Area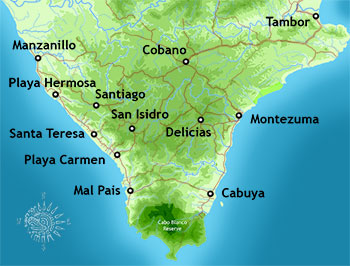 For a set of hand-made maps (I did them myself with a GPS and photoshop) of the entire area, including the beach towns of St Teresa and Mal Pais, click Malpais and Montezuma Area Maps
About the Towns
All these towns have something great to offer, and are worth a visit during your trip to Costa Rica. This website's goal is to highlight the best in each area, and help you determine the difference so you know where to book your stay. Many people who come here for a week spend 3 days in Montezuma and 4 days in Santa Teresa, but the two are very close (25 minutes drive) and it's beautiful in between, so you can really easily explore the entire Southern Nicoya Peninsula from a single spot. In rainy season, the roads are much worse, especially the main beach road through St Teresa and Malpais, so it takes a lot longer to get anywhere. But, the municipality repairs them regularly, so you may arrive and find them to be newly improved.
All things considered, there's actually more to do in Montezuma, because there's more to do there. In Montezuma, the national parks are closer, more wildlife, there's scuba diving, and boats to Tortuga Island. Santa Teresa is a destination for surfers, more high-end travelers, and people who want to see the sunset on the water towards the west. Both towns have many amazing restaurants, but Santa Teresa now has more.
At the bottom of this article, underneath the Google map, you'll find two short videos that show what it's like to drive through Malpais and Santa Teresa. This will give you a pretty good clue of what they look like in town. They aren't super-cute the way Montezuma is, but the appeal here is the beaches, not the towns themselves. What we love here are the incredible array of restaurants, and the many dozens of lush oases that hide within the many boutique hotels and rental villas.
The Beaches
Both Mal Pais and Montezuma beach areas have won international acclaim. For example, Malpais was selected by Forbes Magazine in their article on the world's top ten "Most Breathtaking Beaches". The beaches here are so varied that it's hard to know which they were referring to, but perhaps they had a chance to visit several to see that each was more spectacular than the next.
Santa Teresa is more known for sandy surfing beaches. Malpais is thought of as rocky beaches, but there are spectacularly epic sandy coves and protected places to swim or snorkel, and several great point breaks that are nearly legendary to the soul surfers who live here.
More about these amazing beaches can be found here on our websites: Beaches of Santa Teresa and Malpais
Towns of the Southern Nicoya Peninsula
Click the following links for various article on our site detailing each of the area's towns.
Google Map of the Southern Nicoya Peninsula
Video of a drive through Malpais
Video of a drive through Santa Teresa