Malpais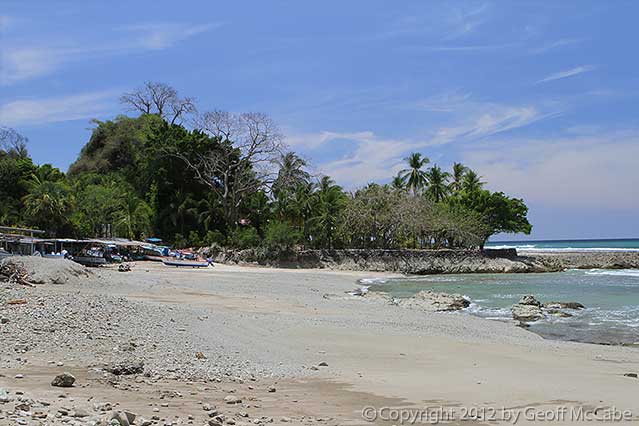 Malpais is everything to the south of the crossroads at Frank's Place. Like Montezuma, Malpais has mostly rocky beaches, with occasional sandy coves. Malpais surfing has become famous in the surf circuit, and generally refers to the both towns of Malpais and Santa Teresa. There are two great surf spots – one at Mar Azul, and one at Sunset Reef. The crowd here is older and more laid-back than in Santa Teresa, and although it's right next door, has developed a very different vibe. Unlike Santa Teresa, the real estate on the Malpais side hasn't been chopped up into thousands of tiny lots for development. A greater amount of intact jungle, and more water in the hills keeps the area greener, and because there are less tourists, it's quieter. The exception is the famous Malpais Surf Camp, which has an open mike night on Wednesday nights which is attended by half the peninsula. Many famous musicians have shown up unexpectedly and rocked the crowd, so you never know what you're going to hear.
Malpais borders Cabo Blanco National Park, but it doesn't have an entrance to the park. The only entrance for tourists is in Cabuya, which is just south of Montezuma. Malpais is blessed with one of the best restaurants on the peninsula, called simply "Mary's". This place makes the world's best fish tacos, and the prices are affordable. Much of their produce for the restaurant is also from their own farm behind the restaurant.
Scenery over Malpais
The Mal Pais area is known for it's ridiculously gorgeous scenery, whether seen from the hilltops, as in the photo above, from the beaches, or within the jungle. The area has several really nice sandy coves, with huge towering rock formations, and many different point breaks for surfing. From many of the rental villas, you can see the surfers on waves such as Mar Azul or Sunset Reef.
Other areas of Malpais
A Beautiful Beach Town
Mal Pais is a small beach town in Puntarenas Province of Costa Rica on the Nicoya Peninsula. The town used to be fishing and farming village which gained tremendous popularity in the recent years as one of the great holiday destinations in Costa Rica. Forbes Magazine even voted the beach of Mal Pais as one of the ten most beautiful beaches in the world. The town is widely well liked by surfers, sport-fishermen, naturists, divers and adventurous backpackers. Not only the beach offers numerous sport opportunities, it is also a very beautiful place full of amazing panoramas. Mal Pais carries spectacular white sand beaches bordered by crystal clear Pacific Ocean on one end and by a covey of jungle covered hills on the other. Its rich and unique wildlife is another plus point. The jungles are flourishing with a large number of tropical birds and animals. Today people from all over the globe desire to visit Costa Rica just to see the beautiful town. Whether it is a couple on a romantic retreat, a family on a getaway, a backpacker on yet another adventure or a celebrity on a hideaway,  Mal Pais is a stunningly pretty and adventurous holiday destination that will exceed your expectations. 
Things to Do in Mal Pais
It seems as if Mal Pais is sprinkled with different kinds of beauty. Capture the picture perfect moments on your camera. There are lush gardens with blooming flora and fluttering butterflies, amazing sunset vistas, eye catching landscapes, mystical jungles and sun kissed beaches. Furthermore, it a family oriented, tourist friendly village with a good number of luxuries. There are plenty of accommodations suitable to all sorts of budgets, various restaurants, bars and a quite a fun nightlife. In addition, vacationers find the welcoming and cordial ambiance very appealing. On your tropical retreat to Mal Pais, you should not miss the following places and activities;
Trip to Cabo Blanco National Park
Cabo Blanco National Park is a beautiful nature reserve on the Nicoya Peninsula.  It has glorious beaches, rich wildlife and scenic nature. Tourists from all across the world visit Cabo Blanco Park for hiking, swimming, surfing and bird watching. The park has two pretty beaches, Playa Cabo Blanco and Playa Balsitas, that offer an idyllic platform for swimming, surfing and watching pelicans.
Bird Watching Tour
Nicoya Peninsula has over 250 species of birds such as parrots, toucans, Scarlet Macaws, kingfishers, pelicans, herons, and falcons. Tourists have two options for tours. One is to visit Cabo Blanco through the mountains above Mal Pais and second one is to traverse the low lands of peninsula and explore the rivers where many marine birds are found. 
Aquatic Adventures
Go on sailing, snorkeling, surfing, diving and deep sea fishing in Mal Pais. Take a boat ride to the waters of the peninsula and have a fantastic opportunity to fish. If you are lucky, you might be able to spear some mahi mahi, doradi and who knows even a rooster fish!  You can also take a dive into the water with your snorkel gear and observe the underwater creatures. Surf enthusiasts can take surf lessons and rent some equipment from the surf shop and go out to catch some waves in the popular surf points of Mal Pais such as Mar Azul and Playa Carmen.
Photo Gallery